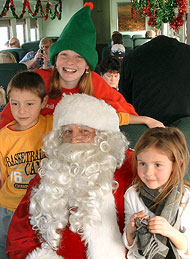 Join us on December 3rd and 4th for the 2022 Lunch with Santa on the Train at the Wabash Depot in Monticello, Illinois, a holiday favorite with kids of all ages. Enjoy a train ride, an individual visit with Santa, and kid-friendly sack lunch.
Our Coach Class Tickets are $20 per person.
Check out our frequently asked questions (FAQ) below.
The Monticello Chamber and the Monticello Railroad Museum are excited to continue, the Deluxe Dining Car experience. There will be 22 of these tables available on Saturday at 1 p.m. and 22 available on Sunday at 11:15 a.m. and1 p.m.
This experience includes four tickets (one table) on the dining car, a turkey sandwich from Subway with chips, a cookie, and water, a commemorative keepsake, and a digital photo* with Santa by our professional photographer.
*Digital Photo - You will have the opportunity to have a professional photographer take photos of your kids/family with Santa on the train. The photographer will take several photos and discuss your desired grouping on the train. They will then send you a single digital image. You may also communicate to them a desire to purchase additional digital images or prints separately.
The Deluxe Dining Car experience is $180.
We look forward to seeing you at Lunch with Santa!
Check out our frequently asked questions (FAQ) below.