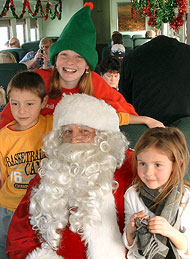 Join us on December 2nd and 3rd for the 2023 Lunch with Santa on the Train at the Wabash Depot in Monticello, Illinois, a holiday favorite with kids of all ages.
Enjoy a train ride, an individual visit with Santa, and a kid-friendly sack lunch. Our Coach Class Tickets are $20 per person.
The Dining Car Experience is for 4 riders (one table) in one of two dining cars. Turkey sandwiches from Subway of Monticello with chips, a cookie, and water are included along with a commemorative keepsake. While in the Dining Car, there will be coloring pages and games to enjoy at the table! The Dining Car experience is $165 per table. This experience is only available on Saturday at 1:00 p.m. and on Sunday at 11:15 a.m. and 1:00 p.m.
Would you like a Private Car Experience and ride the rails like a railroad baron? You can enjoy an exclusive experience aboard Illinois Central Business Car #7! The price is for use of the observation lounge in our private car and includes space for up to 12 passengers of any age. You will be provided turkey sandwich meals from Subway of Monticello for up to 12, fun activities to enjoy during the ride, a family fun Christmas basket for you and your guests to enjoy, 4 commemorative keepsakes, and some extra goodies for dessert. This experience is available at 10:00 a.m., 11:15 a.m., and 1:00 p.m. on both Saturday and Sunday and costs $850 for up to 12 people.
*IMPORTANT NOTE: The 11:15 a.m. train on Saturday, December 2 takes place during the Monticello Christmas parade. Those who ride the 11:15 a.m. train will miss the parade.
We look forward to seeing you at Lunch with Santa!
Check out our frequently asked questions (FAQ) below.